Written by Shubhra Prakash
Yesterday we opened our very first digital art exhibition presented by Kaleidoscope Digital Art Gallery at Triveni Kala Sangam, New Delhi. "Fontwala: Stone to Mobile, what remains ?"
Photos above are from the first half hour of our opening on July 27 2019, 10:30 AM. Kaleidoscope Digital Art Gallery was taken over by thirty or so children came to Triveni Kala Sangam for a drawing workshop. I assumed that the workshop co-ordinator wanted these kids to experience a digital art gallery. I gave them a short spiel during which I quickly realised it's better to show them how to experience the space rather than talk about what it is and what it is not. By observation I learned a lot about what spoke to them and all that is possible. It was a fantastic start to our opening day.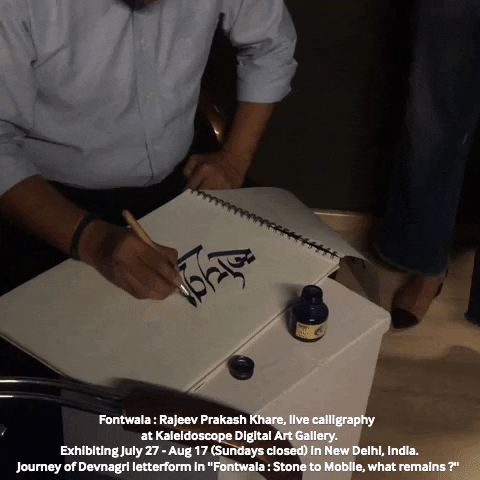 A sneak peak of the videos of the exhibition. We are in the space till Aug 17. Details > http://www.rajeevfontwala.com/events/
A change in medium does not mean the tough questions posed for an artist will disappear. In fact, in many ways the inquisition further intensifies. Following are the phrases I captured during the day that I was not entirely surprised by : "This video only has music in the background, there is no voiceover …. that's it ?" I quietly listened and stopped myself from getting up and explaining why that music to me accentuates the transformation of a shape into a letterform, that each stage is a few centuries of change endured by the letterform. I did not need to explain it in the video, I did not want to explain it to them in person. Explanation to me, gets in the way of experience. Some visitors were bold enough to question, suggest and confront us because there wasn't enough information posted around the video screen to tell them what they will be looking at or what they should take away. I learned a lot about how work is received by various people. Why one pines for explanation, labels, descriptions, when all one has to do is put on the headphone, surrender to the visuals on the screen and let themselves trust that whatever it is they are experiencing is all there is or may be there is more that can lead their curiosity, the work in front of them is an offering, an invitation, the road will still need to be walked by the viewer and hand holding is a surefire way of diminishing this adventure.
Photos below : Rajeev Prakash Khare as Guest speaker at National Seminar on calligraphy Kalakshar 2013.
Day one also showed how an opinion expressed at the start of the day which may seal a thought can be totally debunked by the end of the very same day. While my uncle (chacha) Rajeev Prakash Khare, the main artist of this exhibition provided calligraphy of names of guests in person who were attending, one such guest pointed out while making an instagram story of the calligraphy happening in front of her. "It's a dying art really, calligraphy." He being so engrossed in the movement of the letterform, simply nodded and replied with a yes yes, if anyone would have asked him if it would be ok to drive a truck over the building at a moment like this, he would have simply nodded and replied with a yes yes. I watched and took this in, calligraphy is a dying art. Towards the end of the day we were visited by alumni of chacha's alma mater BHU, students who had taken his workshop years ago. They remembered his elaborate visual poetry of calligraphy in the hall where he went wild with paint on paper. They remembered it to be different from anything they had seen happen with the letterforms.
Amongst these young enthusiasts was a self taught calligrapher who spoke with chacha for long. He mentioned a group he was a part of with the sole mission of reviving calligraphy of Indian scripts. With infectious enthusiasm he showed me his work and admitted to me that he was not going to recommend our event to his group till he had seen it himself. He was inspired by our use of digital art and wanted to explore it further himself within the context of calligraphy. I remembered the girl from earlier in the day. In the same day I had heard of the death and resurrection of the art form. I look forward to being witness, spend the rest of these three weeks learning more about the observers who come into the dark room where they can rely on no explanation only on their own willingness to immerse.